As far as I recall, BL anime has always existed since the early 90s. Before BL dramas and movies became mainstream, BL animated series were essentially frontier films portraying male romance even though they were taboo in society.
BL has an association with anime and is often interchanged with the terms yaoi or shounen-ai labels describing essentially the same genres. Yaoi is explicit, shounen-ai is more innocent and BL has a lot of both. It's an interesting niche for many demographic groups.
A Little Bit of History
BL has a long history of struggles, recognition, and evolution. It started in the 1970s with the Year 24 Group.
The group consisted of female mangaka who had birthdays in the late 1940s (or the 24th year of showa). They target young women as readers of romantic boy x boy tales, some of which are explicit in nature.
One of the most prominent writers of the era was the now legendary Takemiya Keiko, who challenged both gender norms and sexual boundaries in her works. Notably, her 17-volume series Kaze to ki no Uta is considered to be the first BL manga.

Due to its explicit content, featuring rape, drug abuse, homosexuality, and homophobia, to mention a few, her publishers originally refused to print the work. Takemiya stood her ground, refusing to censure or change her work. As a result, it took a long nine years from the original conception before Kaze to ki no Uta was finally published in Shoujo Comic magazine in 1976, where it ran to its completion in 1984.

The History of BL (Boys' Love) by Caroline Olsen
Kaze to Ki no Uta is a Japanese manga series written and illustrated by Keiko Takemiya. It's considered as one of the earliest works in the shōnen-ai (male-male romance) genre, Kaze to Ki no Uta follows the tragic romance between Gilbert Cocteau and Serge Battour, two students at an all-boys boarding school in late 19th-century France.
Kaze to Ki no Uta is credited with widely popularizing the shōnen-ai genre. Yukari Fujimoto writes that Kaze to Ki no Uta (along with The Heart of Thomas and Hi Izuru Tokoro no Tenshi) made male homosexuality part of "the everyday landscape of shōjo manga" and "one of its essential elements", and manga scholar Kazuko Suzuki cites Kaze to Ki no Uta as "one of the first attempts to depict true bonding or ideal relationships through pure male homosexual love". James Welker concurs that Kaze to Ki no Uta and The Heart of Thomas "almost certainly helped foster increasingly diverse male-male romance narratives within the broader shōjo manga genre from the mid-1970s onward". [source]
Where to watch BL anime series and films?
There is a growing list of BL anime to watch at BiliBili for both free and subscription options. Anime-Planet has an impressive list of Boys Love anime to enjoy.
It's highly recommended to use a VPN especially when watching BL series. There are streaming sites like NetFlix, Viki, GagaOOLala, iQIYI, Hulu, Viu, and many others that may limit broadcast reach due to copyright and other legal stuff. A VPN is safe, reliable, and legal.
The Genre's State of Affairs
As demand for Boy Love shows increases, anime makers want stronger coverage of the growing genre. The anime industry changes continuously over the years so different anime genres emerge in the rapidly expanding demographics. The lovers of BL can no longer stay out of the shadow since anime abounds more in recent years. Aside from the dominant Japanese anime market, there have been emerging success stories from South Korea and mainland China.
The Top 25: A Hitlist of the Best BL Anime Genre in Series and Movie forms
This selection is a matter of taste. Some shows in this list may appear controversial to some, yet how can Yaoi be any more controversial?
Dakaichi: I'm Being Harassed by the Sexiest Man of the year.
Dakaichi features a no-holds-barred look at the Entertainment scene from the inside.
Takato Saijo is an ambitious veteran actor who boasts of being voted as the 'sexiest man of the year' for 5 years in a row. However, his first-place position was usurped by a rookie actor named Junta Azumaya. Takato considers Junta as a rival, but the younger actor treats him like an idol and is desperately in love with him.
An inside look at any entertainment industry in the world is worth watching. There's intrigue, scandals, and all sorts of things to talk about.
The Japanese entertainment industry is quite notorious, and this BL anime reveals plenty of that notoriety. The romantic and intimate interaction between the two main characters is worth the time and effort, for real.
[Read our Full Review]
The Night Beyond the Tricornered Window
The Night Beyond the Tricornered Window is one of a kind BL anime from Japan.
Shy bookstore clerk Kosuke Mikado has the ability to see ghosts and spirits, an ability he wishes he didn't have since what he sees usually terrifies him. Rihito Hiyakawa, an exorcist whose supernatural powers are as strong as his social graces are weak, doesn't seem to fear anything, mortal or otherwise.
When this odd couple gets together to solve the bizarre cases that come their way, their work methods may not be entirely safe for work!
The interaction between the two main characters can be quite funny, sarcastic even and at times confrontational and intense. This is the reason why this BL anime is both entertaining and engaging.
[Read our Full Review]
The Tyrant Falls in Love
The Tyrant is both controversial and addictive.
This BL anime is a comedy with some pointed social commentary. It tells the tale of Tetsuhiro Morinaga who is in love with his upperclassman Souichi Tatsumi. But Tatsumi happens to be a self-centered and outspoken homophobe. An unforeseen accident (related to an aphrodisiac drug) brings the two men into physical intimacy. The experience changed the complete dynamics between the two youngsters. Is that enough to make them fall in love or further apart?
Plenty of comedic scenes between the 2 main characters, with some mentions of gay marriage – treated lightly and without any sting.
Yuri On Ice
Yuri on Ice is a trailblazer BL anime featuring sporty-competitive romantic love.
Yuri On Ice is a BL anime released in 2016 about Japanese ice skater Yuri Katsuki and his struggles to regain his confidence and compete again. He returns home to Japan feeling defeated. To his surprise, a Russian ice skating legend Victor Nikiforov, was there to meet him. Being his friend, Victor trains Yuri and a promising young Russian skater side-by-side. Can he regain lost ground and Victor's undivided attention?
Praised by professional ice skaters around the world, Yuri On Ice, was exciting and romantic. It's filled with suspense and delightful ice skating scenes and the interaction between Yuri and Victor is feel-good as it is sweet. Definitely worth binge-watching.
Super Lovers
Super Lovers is intriguing and controversial – just the way I like it.
While spending the summer with his mother, Haru meets Ren, a boy newly adopted by his mother. Getting along with Ren isn't easy as Haru's goal is to "civilize" him by the time summer ends. Their relationship slowly improves as Haru spends more time with Ren and in return Ren steadily gives his love to him. Can they become a "family" at the end of summer?!
With lots of comedic, fun moments, Super Lovers (both seasons) features brotherly love that turned intimate, so some people are having issues with incest. There are also lots of mysteries pertaining to Ren's origin, and the wolves that he tends to keep as company. There are also plenty of psychodramas, which makes this BL anime not just an exploration of romantic love.
Hitorijime, My Hero
Hitorijime, My Hero reminds us all that we need a personal hero in our lives.
Masahiro Setagawa has stopped believing in heroes as he believes that heroes do not truly exist, especially since he has been getting into a lot of trouble. He's been coerced into joining a gang and is often bullied and used as a gopher boy.
However, soon an infamous street fighter named Kousuke Ooshiba, or the "Bear Killer" inadvertently saves him. This man happens to be the older brother of his best friend Kensuke Ooshiba and his current homeroom teacher.
This BL anime is all about meaningful relationships – it's not just being serious, but rather enjoying each other's company and even having heated arguments on the side.
[Read our Full Review]
Junjou Romantica
Junjou Romantica is like a baptism of fire to newbie BL fans.
"Pure-Hearted Romantica" is Japanese BL anime adapted from the manga series by Shungiku Nakamura. It focuses on four storylines: the main couple, which comprises the bulk of the books, and three other male couples that provide ongoing side stories ("Junjo Egoist", "Junjo Terrorist", and "Junjo Mistake").
One of the longest-running BL anime, it started out in 2008 and ended in 2012 with its third season. Just the first episode alone when Misaki witnesses his brother being fondled by the famous Akihiko Usami is enough to be intrigued and curious to go over the succeeding episodes.
The Stranger by the Beach
The Stranger by the Beach is fast becoming a BL anime favorite.
Unrequited love that was converted into a full-bloom affair, familial relationship, and self-discovery – heavy stuff, right? Yet, Anime director Akiyo Ohashi should be commended for the stylistic and understated treatment of the subjects. One of my favorite BL couples, Shun and Mio have so much going for both!
More than halfway through the film, the love scene is a major highlight; however, the "slice-of-life" scenes are just lovely!
[Read our Full Review]
Sekai-Ichi Hatsukoi
Hatsukoi renders one of the most fascinating BL anime of all time.
Ritsu Onodera, a literary editor, resigns from his father's publishing company. This is due to his coworkers' jealousy of his success. They claim that he is simply riding his father's coattails. He applies for a position at Marukawa Publishing in order to move away from his father's shadow. But he was placed in the infamous shōjo manga department, Emerald. His new boss Takano convinces Onodera to stick with the job by calling him "useless," his pride forcing him to stay to prove his worth.
The World's Greatest First Love comes on the heels of Junjou Romantica and offers the same vibes and flavor, yet it is focused on one couple alone.
Loveless
Loveless features a different, albeit exciting, and fantastical BL world.
In the world of Loveless, each person is born with cat ears and a tail, which disappear only if that person engages in sexual intercourse. Because of this, they have come to symbolize virginity and innocence. Additionally, fighting is only done by "fighting pairs" or couples, where one is known as the Sacrifice and the other as the Fighter.
Ritsuka Aoyagi is a 12-year-old boy, who for some unknown reason suffers from amnesia. His brother got killed recently, and as if his life has not been hard enough lately, on his first day at the new school he gets approached by a stranger called Agatsuma Soubi, who claims to have known his late brother. Ritsuka finds out that Agatsuma and his brother used to be a fighting pair, and that Agatsuma has inherited Ritsuga now that his brother is gone.
Ai no Kusabi (Love Wedge)
Love Wedge is a time-proven BL anime that still resonates today.
It's a BL anime set on an alien timeline. The Animated Series has taken place on the planet of Amoi, a planet controlled by a computer named Jupiter. Several male humans have light-colored skin and are considered elite-class. They usually keep dark-haired males as their mongrels.
This story focuses on a wealthy man named Iason and a mongrel found in a neighborhood he named Riki. Watch how society frightened them and the friendship between them gets stronger.
Gakuen Heaven
Gakuen Heaven has been inspirational to the live-action BL series of late.
Gakuen Heaven was released in 2006, and it was the first early Harem-themed anime that incorporated visuals. If you love BL anime that has lots of Bishounen and eyes, the anime is for you. Gakuen Heaven follows Itou's incredibly successful life as he enters Bell Liberty Academy for Boys. On arrival, Keito attracted interest from both the student president, Nika Tetsu, and their secretary Sainjikaori. As Keita manages his daily school life, Keita begins revealing his school invitations.
Haru Wo Daite Ita (Embracing Love)
Embracing Love is an oldie but goodie BL anime exploring the world of adult-themed actors.
Kyusuke Iwaki and Tetyouji Katou are the protagonists of "Haru Wo Daiteita". The couple looks beautiful and works as actors. Both of them have acted as adults on video and they're hoping to succeed to get better at acting. After beating Katou at an audition Iwaki went on to make his own film.
During their time of friendship, Katou is unsure whether Iwaki-San has a girlfriend, and Iwaki-San has no faith in him. Once a gay man returns to Japan with Katou things start to get bad. And then the two of them knew where their hearts were.
Antique Bakery
Antique Bakery is inspirational, giving hope to those who have big dreams.
A high school crush, a world-class pastry chef, a former middle-weight boxing champion… and a whole lot of cake! Ono has come a long way since the agonizing day in high school when he confessed his love to handsome Tachibana.
Now, some 14 years later Ono, a world-class pastry chef, and gay playboy have it all. Will he capture romantic love too?
Gravitation
Gravitation is an oldie but goodie Japanese anime boys' love.
Gravitation is an anime that was released in 2000. BL – shounen-ai / yaoi had been gaining popularity among anime fans. Based on the manga from Murakami Maki the plot revolves around the aspiring singer and school student Shindou Shuichi, falling in love with the popular writer Yuki Eiri.
Shindou and his longtime friend Nakano Hiroshi form a band that aims the achievement of the above goals. It addresses Shindou's ambition to become a professional vocalist despite the hard realities of the industry and Shindou's growing feelings about Yuki.
Soul Contract
Soul Contract gives Chinese anime an amazing reputation.
Soul Contract (Lingqi or Soul Contract) is a BL anime from China. It is about the young heir of a well-known and respected exorcist who lived a miserable life due to sudden and unfortunate death. Yang Jinghua is starting to work in Japan part-time to help feed their families.
Yang encounters an odd white-headed guy in a trash yard. Upon seeing him wake from an accident, he realizes he has lost his life and takes a spirit form. Later it became evident that he actually was an exorcist. A man offers the young man a contract in exchange for Yang being their spirit shadow.
Twittering Birds Never Fly: Clouds Gather
Clouds Gather is the best example of a Mafia-Crime-themed anime from Japan.
The series follows Yashiro, a young, high-ranking yakuza boss and president of a front corporation. He is assigned a new bodyguard, Chikara Doumeki, who discovers that his employer is a hypersexual masochist. Yashiro develops an attraction to Doumeki, who rejects his advances. Yashiro later discovers that Doumeki is impotent and pursues a sadomasochistic relationship with him.
Hypersexual means just that – extremely sexually active. And boy, Yashiro is simply insatiable when it comes to sex. The funny thing is, his new driver Doumeki, is impotent. When your sexual target is someone who can't get a hard-on, you either kick him out or do some psychoanalysis on him – weird yet it's true.
[Read our Full Review]
Hyperventilation
Hyperventilation is an emotional roller coaster ride that is hard to forget.
In the case of our lead character, Lee Myeongyi, his collapsed lung paved the way for his treatment as an outcast in school. Yet the class president, Han Seonho, shows Myeongyi kindness and empathy. Fast forward nine years later, Myeongyi attends his high school reunion for only one reason: to see Han Seonho once again.
Erotic, dreamy, and pensive, Hyperventilation offers more than the romantic notion of togetherness after years of separation. The sex only added another dimension to what could have been an 'illicit' affair.
Recommended! Essential Korean BL Anime: A growing list of BL anime from South Korea.
Banana Fish
Banana Fish remains one of the most well-regarded and acclaimed BL anime of all time.
Because it is set in the Big Apple, Banana Fish – BL anime differs from Japan's usual slice-of-life boy's love animation. There are no cicadas humming from the background or the bluest of blue waters on the Japanese shoreline. Instead, it's a concrete jungle with a blossoming friendship between our two lead characters.
Heavy stuff for starters. Both Ash Lynx and Eiji Okamura – obviously – have different characters and it's their unique individuality that made them endearing. Their comedic and intense interaction made this such an entertaining and absorbing anime.
[Read our Full Review]
Semantic Error
Semantic Error is an award-winning and quality BL anime from South Korea.
Computer science major Chu Sangwoo is the epitome of an inflexible and strict rule-abiding person. While working on a liberal arts group project with freeloaders who don't put in any effort, Sangwoo reasonably decides to remove their names from the final presentation. But he didn't imagine how involved he would become with the person whose study-abroad plans were messed up because of that project. The involved person: the campus star who everyone knows, the Department of Design's Jang Jaeyoung.
Recommended! Essential Korean BL Anime: A growing list of BL anime from South Korea.
No. 6
No. 6 offers a fantastical, post-apocalyptic scenario involving boys' love.
Many years ago, after the end of a bloody world war, mankind took shelter in six city-states that were peaceful and perfect… at least on the surface. However, Shion—an elite resident of city-state No. 6—gained a new perspective on the world he lives in, thanks to a chance encounter with a mysterious boy, Nezumi.
Nezumi turned out to be just one of many who lived in the desolate wasteland beyond the walls of the supposed utopia. Shion decided to take him in for the night and protect him, which resulted in drastic consequences: because of his actions, Shion and his mother lost their status as elites and were relocated elsewhere, and the darker side of the city began to make itself known.
Heaven Official's Blessing
Heaven Official's Blessing is one of the best BL anime from mainland China.
Xie Lian is the Crown Prince of the Xian le kingdom. He ruled with love and compassion and is beloved by the people. However, some suspicious events took over and he was banished. 800 years passed and he ascended from heaven – without much of a reputation. In order to redeem himself, he has to gain merits, thus he's given tasks to fulfill. These tasks involved solving problems for the people, including investigating and hunting ghosts and benevolent spirits. Little did he know, there was someone watching over him.
Being aware of the strict censorship in mainland China, I am expecting plenty of edits, yet this BL anime took an ingenious way to present the romantic relationship between the main protagonists Xie Lian and Hua Cheng.
[Read our Full Review]
Doukyusei (Classmates)
Doukyusei is one of the best BL anime movies in a coming-of-age setting.
Rihito Sajō is a pensive and smart student at Touichikou High School. He is tutored for the school's choir by his high school classmate Hikaru Kusakabe. They begin dating after Kusakabe impulsively kisses Sajō. They grow closer over the course of the year. Kusakabe rebuffs a romantic advance on Sajō by music teacher Manabu Hara. Sajō also attends a concert where Kusakabe performs as a guitarist. On the day of his mock college entrance exam, Sajō suffers a panic attack and reveals that his transfer to Touichikou was prompted by low test scores caused by his anxiety. Sajō takes the exam with encouragement from Kusakabe, and the two affirm their desire to remain together.
As we go along watching how the two youngsters develop their relationship – from mere classmates into friends and finally as reluctant lovers (at least to one of them) – you will notice the depth of the dialogue. Also their actions and reactions toward one another and the people who interact with them.
[Read our Full Review]
Sasaki and Miyano
Sasaki and Miyano continue the tradition of Deen productions, about a senior-junior relationship in a school setting.
Miyano witnesses a fight between Kuresawa, his classmate and friend, and several other students. Too afraid to step in, he calls for help over his phone, when Sasaki, a second-year student, steps in to dissolve the quarrel. A new bond is formed when Sasaki meets Miyano again a few months later, and he becomes especially interested in Miyano's hobby: Boy's Love manga. Though Sasaki has no idea what seme, uke, or moe means, he is eager to read more in order to get closer to his underclassman.
Miyano initially felt annoyed by the unwanted attention, but it turned out there is more to Sasaki's invasion of personal space than meets the eye. Hilarious and embarrassing situations abound making Sasaki and Miyano entertaining, which is one of its biggest attractions.
[Read our Full Review]
Given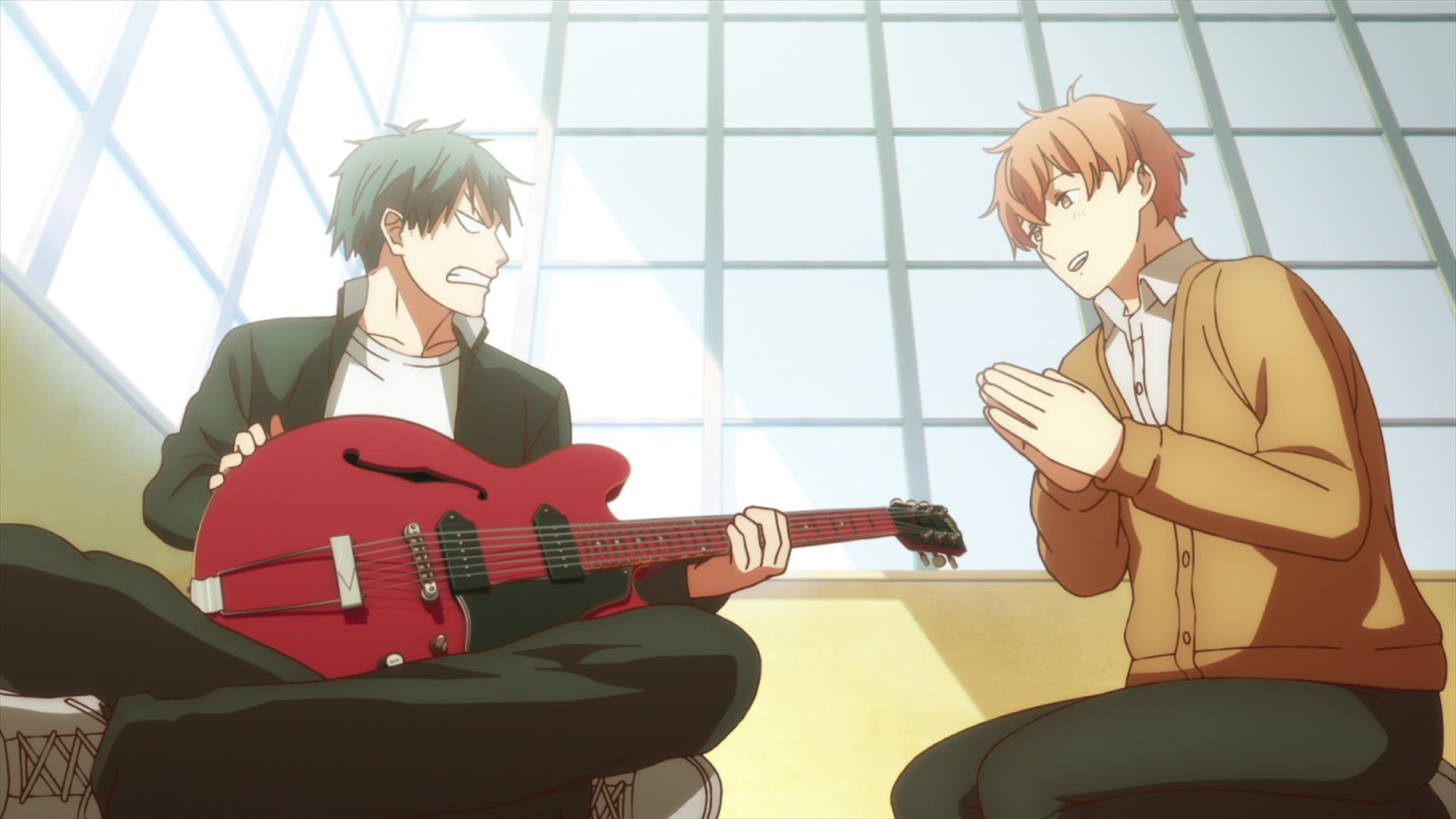 Given is a Japanese anime series with a musical, and coming-of-age theme.
While taking a nap in a quiet spot on the gymnasium staircase, Mafuyu Satō has a chance encounter with fellow student Ritsuka Uenoyama, who berates him for letting his guitar strings rust and break. Noticing Uenoyama's knowledge of the instrument, Sato pleads for him to fix it and teach him how to play. Uenoyama eventually agrees and invites him to sit in on a jam session with his two bandmates.
While it centers on Arc 1 of the 'given' manga storyline, it is a complete BL anime in itself. From the moment Mafuyu and Ritsuka met on the stairs towards the band rehearsals and the final episode – where Mafuyu is finally allowed to sing (or the audience is given the first option to hear his voice) – Given offers the complete package. It's a very engaging series that presents both subtle and obvious hints about relationships, growing up, and tragic and endearing consequences.
[Read our Full Review]
Further Recommendations
7 Chinese Upcoming BL Anime Worth the Watch: Warm Sun, Dragon in Distress, Silent Reading, Are You OK? (Season 2), Defective Lovers, AWM Jixian Juji, Heaven Official's Blessing (Season 2).
On Thai BL series: Which programs do you need to watch and avoid? Here are some! Japanese BL movie Sing in Love is getting lots of love!
An old-timer BL fan way back in 2007. I started out loving BL after watching the Takumi-kun series from Japan, went on collecting BL manga, and watched old BL anime such as Junjou Romantica and the likes. Love of Siam allow me to transition into Thai, while Amphetamine gave me glimpses of Taiwanese BL magic. I love to write reviews and I'm one of the administrators of Psycho Weird.